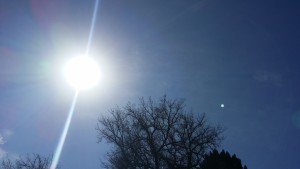 Many senior executives and business founders are at a level where they have significant responsibilities, they are acting in authority, yet they do not have a peer with whom to discuss key business trends, key operational considerations, someone they can talk about strategy with in a secure environment, who gets what they are saying, who gets the level they are operating at, and who can reflect back, have a conversation with them that's meaningful, productive, that produces key insights that can lead to results or to major shifts in company operations.  Thus, I find that I work well with clients in a peer-to-peer role.
This is my first blog post, and also the start of the online version of my consulting business. I love analyzing businesses and looking at business trends, and in this blog my desire is to connect with you, write about my observations about how new trends are developing, have fun and provide inspiration that motivates you to pursue your dream, whether it's for you personally, or as an entrepreneur, or a senior executive, or perhaps you are an inventor with a technology, a new design, a product, that could change the world.
Although my background is in business analysis, I ran teams in my role and so I know what it's like to create projections, be expected to execute them, and to know what the consequences are of falling short; I had employees and team members with families, with kids in school.
I learned the "art" of business analysis during my career in investment banking and almost entirely through mentoring with highly respected, senior ranked executives. Schooling is important, but there's something about "boots on the ground" and coming up through the ranks, learning from those who've been there and done it, that worked for me in this field, and a lot of that is probably because I love working in teams, and I was competent, trustworthy and effective.
I have worked with many types of companies across many industries. When we were analyzing restaurant companies, we were always calling to make reservations, assessing customer counts. When we were analyzing retail stores, we were estimating foot traffic by walking the stores and shopping, comparing colors, trends and presentations. When we were analyzing distribution companies, we were walking through warehouses, skirting fork lifts. When we were assessing human resources and payroll services companies we were learning the intricacies of accounting rules. When we were working with Internet companies, at the start of the Internet boom, we were stretching our imaginations trying to envision where the Internet would take commerce
What I did was analyze businesses from an investment perspective, looking at the operations, strategy, execution, market positioning; looking at the overall "investment themes".
Investment themes are pretty much what goes into an overall executive summary, and they indicate the reasons behind the purpose of the business that will drive growth.
But, there's an artful way to do it, and a good highlight of the investment themes in a conversation or presentation will paint broad brush strokes based on specific trends or data that for an investor with acuity paints an image like a Monet of where the business can go, what the company can do, how it will be positioned, how it will grow, over the next 2 years; the next 5.
An interesting TREND that I've noticed in the space for online businesses run by entrepreneurs starting out as solopreneurs, a group I have been studying assiduously as I develop my business online, is that the best online entrepreneurs CREATE THEIR OWN INVESTMENT THEMES ORGANICALLY.
In traditional business analysis, structure and concepts are looped around an analytical basis and reason for being, companies that are funded by leverage or outside investment are like a ship pointed at the next port, with every aspect, every reason, every step, carefully laid out and planned out to the best of everyone's ability.
And they have had to be – they tend to be larger, with a lot of up-front investment at stake. For traditional and more established businesses, sticking to the plan, executing, driving customer trends or growth as stated in the PLAN backed up by the INVESTMENT CASE is the KEY MARKER FOR SUCCESS.
This is why the VARIANCE ANALYSIS is a key tool for analysts and executives. The variance analysis compares budget (if the analysis is internal) with actual results and with projected results. When you are a business analyst, you don't have the internal budget, but you create a forecast of the current quarter, and a set of projections for the next few quarters, that you feel the company can meet based on knowledge of the company, the business model, your expertise, on your knowledge of industry and market trends.
In a variance analysis, higher than expected results are good, but not too high, because that means the planning was off, but this may be the result of a new trend that is a good thing, and lower than expected, clearly not too good, and again the planning is off, or unexpected or unforeseen circumstances occur, markets move, disruptive technologies explode onto the scene, politics and currency movements happen and create secondary swings of influence.
Sticking to the plan seems to be the best case scenario and the usual default action. But, this makes it more challenging for these companies to be a little more adept, to turn the rudder towards evolving trends, or head in a direction that could be meaningful and fruitful, because the ship's direction is set and the port of call known.
What I've noticed about successful online entrepreneur or solopreneurs, is that the investment themes or the REASON FOR BEING in business is created from that HEART SPACE of
WHAT DO I HAVE THAT'S UNIQUE TO OFFER THE WORLD?,
WHAT AM I REALLY GOOD AT NATURALLY?,
WHAT IS MY PASSION THAT I SPEND TIME ON ANYWAY?,
and WHAT DO I LOVE DOING?,
and THE INVESTMENT THEME grows, ORGANICALLY, from there.
I call this a "Genesis" investment theme, Genesis like, "In the beginning…." In other words, start, at the BEGINNING, with what you have. You've heard motivational speakers say it… ALL YOU NEED IS ALREADY INSIDE YOU.
This INVESTMENT THEME UNFOLDS ORGANICALLY FROM HONORING THE INDIVIDUAL ENTREPRENEUR'S RAW SKILLS AND TALENTS. And because of the unique features of the internet and social media, that were non-existent just a few years ago, ENTIRE BUSINESSES can be created with a NATIONAL or GLOBAL reach in ways BY ONE PERSON with a SMALL TEAM that were unthinkable a decade ago from something that starts quite small, can continue to be so, or can then scale to the NEXT LEVEL.
THE INTERESTING THING about such a business model is its ability to require LOW INVESTMENT COSTS and therefore be SELF-FUNDING, unless the entrepreneur chooses to scale up significantly (or runs a product company or has physical locations). We will explore this further in coming posts.
THIS IS TRULY an amazing time to start an online business if you are an entrepreneur, even if this "space", i.e., ecommerce and online businesses, started about a decade and a half ago; the online marketplace has RIPENED in a WAY that ENHANCES the ENTREPRENEUR'S ABILITIES, REACH, OPPORTUNITIES and GROWTH POTENTIAL, in ways that were BEYOND WHAT WE CAN IMAGINE, or could imagine a decade and a half ago.
THE DATA SUPPORTS THIS TREND. Forbes magazine has published two articles on this phenomena in the past 12 months, written by Elaine Pofeldt(1) whose own business is in the category. According to Census Bureau data from her article, "The Rise of One-Person, Million Dollar Businesses"(2):
11% of all one person businesses brought in over 100,000 in revenues (before taxes and expenses) (out of 22.7 million that's 2,466,732 businesses)
The number of businesses with six figures in revenues was up 6% in 20120
There were almost 32,000 businesses with 7 figures in revenues, and the number earning between $1 million to $5 million rose 10% in one year (2011 to 2012).
I project that this growth rate has continued or accelerated based upon what I'm seeing in the marketplace and due to the tools and resources available to benefit growth.
TO GIVE YOU AN IDEA about how this compares with the REST OF THE US ECONOMY, here are the Bureau of Labor Statistics forecasts for the next decade from the BLS report on Occupational Employment Projections for the United States economy(3):
Total United States of America employment is projected to grow by 15.6 million persons, or about 10% for the decade.
This makes solopreneurs and their online businesses one of the fastest growth segments of the economy.
There is a proliferation of entrepreneurs who are engaging with this community to teach them the skills to start and grow, and I will be writing about these people in upcoming blog posts, because I have been using their tools, information, courses and assistance, and they might help you also.(4)
My other passion is to INSPIRE others to ACHIEVE THEIR HEART'S DREAM, to help them PAINT A PICTURE of what their SUCCESS could look like, to give them the data, or information, that SETS THEM ON FIRE, that benefits them BRINGING THEIR GOD-GIVEN GIFTS INTO THE WORLD so that EVERYONE BENEFITS from their GENIUS, because they've MADE IT AVAILABLE in a format that others can ENGAGE with.
Because, if we create for ourselves, out of joy, well that's a huge human achievement. But if we can create, and share our unique talents, gifts, insights, ways, with the world, then EVERYONE BENEFITS, and I'd like to be a part of that trend with you.
So I hope I can INSPIRE you also, for I know that your presence here DOES AND WILL INSPIRE me, and I thank you for reading, I share my gratitude with you for this journey about to transpire.
~SusanInspired
© 2015 Inspired Strategies, LLC. All Rights Reserved.
LINKS:
Save