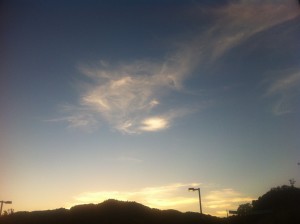 One day, years ago, I was taking a flight from San Francisco to Florida, and a man sat next to me in first class on the overlay in Texas. He was having a hard time, and I prayed with him, and we talked about angels – human angels.
This is another blog post with a soundtrack…. My new favorite song is "My Angel" by Prince Royce Listen Here.
One of the things I love to do with people is BRIDGE DISTANCES, find commonalities, bring seemingly disparate ideas and concepts together.
I feel that we can best do this by asking "what do we both care about that's in common?"
When you are doing business this approach also expands the pool of potential customers and friends. And, you know, sometimes going out of your way to help another person ends up being incredibly helpful to yourself in ways that are unexpected.
There's a quote from scripture where Jesus also talks about this:
"Again I say to you, that if two of you agree on earth about anything that they may ask, it shall be done for them by my Father who is in heaven." (1)
Who says human beings can't also be angels?
You see, I had thought a lot about angels from a young age, growing up in a Christian background. I don't know how I learned about guardian angels, but at a young age I knew that everyone had one and I felt that it was unfair and ridiculous that I could not see mine and talk with him.
I was a young child, and as soon as I said this to God, during my nighttime prayers, I heard a name and I felt a loving presence. A comforting presence. So I kinda had an idea of what they felt like, sitting next to you.
The basic understanding about angels seemed to be that they helped people without judgement.
You know, at some point, the child in me felt that flying around with wings seemed pretty cool, and why couldn't I do that also?
I guess God let me fly around in airplanes instead.
Sometimes a simple conversation can turn into an adventure.
The man from Texas was an evangelical Christian. And I was a businesswoman from San Francisco. Perhaps it was my business background, but he opened up to me because he needed someone to talk to.
He was going into a big time meeting for a business he owned, and the room was going to be full of lawyers, and it appeared that there might be some contention to be dealt with.
And he told me that his "prayer warriors" were back home sitting in a circle praying for him…. come to think of it, maybe the circle part was just the picture I saw when he talked about it….
Well, I had never heard about prayer warriors before, and at first I thought it sounded kind of funny, but as I thought about it and his extreme anxiety and the seriousness of the situation for him, prayer warriors seemed kind of cool.
And I secretly wished I could have some.
Because sometimes I was in really stressful situations, in a roomful of businessmen, and feeling that someone had your back like that sounded pretty good.
The meeting was going to be about his business, and he deeply felt the sense of responsibility for the people who worked for him who would be effected by what was going on, and he deeply desired a successful outcome, and he felt like it was all riding on his performance.
So I decided to try to Bridge the Distance between us, culturally, so that maybe we could relate, personally. Because I felt that he was more likely to listen, rather than just talk, if we could get past our mutual labels of "San Francisco" and "evangelical", of "San Fran" and "Texan".
And maybe, I would be more willing to listen, also.
So I started talking about ANGELS.
I said that I felt that human beings were like angels but where you couldn't see their wings. You know, somehow this conversation really deepened, and we came to agree about how human beings could be like angels, and as we talked about spiritual subjects, he seemed to calm down.
And then he asked me to pray with him.
And I thought, you know what, what the heck, and I agreed. I had never said a prayer "solo" in public before, because I was pretty sure the other first class passengers could hear us real well, but I let one rip. And he said one also.  And we asked for his successful outcome.
And then he felt much better.
And so did I.
I've thought about that experience so many times over the years. For a long time after, I thought that I had been an angel for him, that day. But one day, I realized that he had been an angel for me, also.
You see, in 2012 I started doing volunteer prayer work with friends and acquaintances, following the "when two or more are gathered, I will be there" direction from Jesus, "…where two or three have gathered together in my name, I AM there in their midst." (2).
After a while, I started doing volunteer solo prayer work as well, with the knowing that there were people out there praying with me, even if I did not know them.
And eventually I combined spirituality with the business consulting I was doing, as well. It all seemed to fit together, to start coming together. I am receiving my successful OUTCOME.
And it started on the plane.
With the man from Texas.
My silent…. prayer warrior.
~SusanInspired
© 2015 Susan V. Lacerra, Inspired Strategies, LLC. All Rights Reserved.
What experience helping or being helped by a stranger has left an indelible mark upon you?
How do you bridge the distances between disparate sides?
Have you been able to reach out to someone, or receive a gift from someone, when circumstances seemed dire?
Let us know, in the comments, below.
Footnotes and Links:
(1) From the Bible, Matthew 18:19 http://biblehub.com/matthew/18-20.htm
(2) From the Bible, Matthew 18:20 http://biblehub.com/matthew/18-20.htm
Save