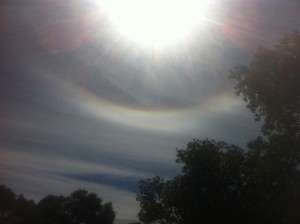 Vision is my thing; I am a Seer. A Seer is someone who can see a "future picture" with high accuracy. In business, what's especially important – to performance and success – is whether this future picture is aligned with where the business is starting, and with what management says they are about compared with what they are actually doing.
While working in investment banking as an equity analyst, I became really good at company analysis and found I was naturally talented at strategy, at strategically viewing the world, a company, its business relationships, it's operations, Now, and in relation to its "Future Picture".
The Future Picture as a Component of Business Success
*****
A lack of alignment between Future Picture and Now meant that something was off, and there might not be business success the way management predicted.
Alignment between Future Picture and Now meant the business as an investment by shareholders could be a home run, maybe even a hit out of the park.
*****
And when the Outcome is a hit out of the park, it's usually something that no-one could have accurately predicted, because the means of the evolvement of the business are such that the method of attainment could not be predicted.
These incredible "hit the ball out of the park" companies are usually inspired by an impassioned dream and a desire to change something about the world.
This is why guiding principles, vision and mission statement are important. They declare the general shape of the means to get there.
GETTING to THERE is often about a future picture or a vision in the entrepreneur's mind that is the reason for doing.
All the rest of the details are in a typical business plan, and the plan may change, and change again, and include "pivots" in strategy, or in operations and execution.
And when that Future Picture, held by the founder or key visionaries or key movers for the company, coincidentally aligns the business with a groundswell movement that comes from the people, from a following, from a "tribe", or from the greater population, extraordinary results occur and extraordinary influence happens.
The thing about a Future Picture is it reflects the dreams of the founder, the visionary, and it's often not described in an integral way as a part of the business plan but it is the driving force behind the business plan.
It's most likely to be successful when this dream is EASY TO COMMUNICATE to OTHERS. That's the essence in thinking behind the elevator pitch, behind the one or two sentence summary of your entire operations.
The key about these short summaries is not that they say so much what your business is actually doing so much as expressing an eloquently brief picture of this driving force.
Some well-known examples of future pictures that drove entrepreneurs and were elevated in a groundswell movement that became a hit out of the park are:
Jeff Bezos, whose passion from the start was for Amazon to "sell everything". (1), and
Twitter founder Jack Dorsey, who wanted to "capture and share experiences in the moment".(2)
Focus on the customer, on servicing the customer, on quality execution, on efficient operation…. Yes. These are the nuts and bolts that make the business happen. These are what are described in detail in the business plan. And they are what a business analyst will pay attention to.
Dreams and passion are not what is highlighted in a business plan.
But they represent the beginning, the motivation, the energy, and the OUTCOME that the organization is trying to achieve; that the entrepreneur, the founder, pursues with laser focus and that management and the employees are intent to achieve, whether these dreams and passions are stated or unstated.
Whether you are analyzing a business, for investment, or are looking for employment, if you can know this information, it's extremely helpful to predict success and to determine if this vision is in alignment with your own.
If you are starting a business, or running a business, it's extremely helpful for you to clarify your outcomes, and know your true motivations and inner intentions, because they act as a compass alignment upon which the rest of your business success is operated within.
Sometimes the future picture is hidden or unstated, and this can cause business results that are unpredictable. A lot of companies flounder because they are pursuing a plan to gain results that are only partially aligned with the broader vision. Sometimes the future picture is unclear from the beginning, and bringing clarity to what the business is really about is the pivot that creates a new alignment, bringing all resources into alignment with the common goal.
Last week I experienced a company with such a superior clearly articulated Future Picture and with operations and execution in complete alignment with that vision. The quality, the service, the experience and the results that these entrepreneurs supply is of such clarity and power that they created a shift within me, their message and my experience caused me to deeply consider their premise in relation to key directions in my life, because I got their message so fully and I found myself to be in complete alignment, that I was willing to reclarify and to make changes in how I express who I am.
In perfect alignment with the subject of this post, they are photographers who create images for women, and they do an excellent job reflecting the woman's inner vision in her portraits. And they took amazing professional photos for my blog. Heidi at In Her Image Photography was amazing. (3)
They see the Future Picture and they Change the World, one customer at a time.
~SusanInspired
© 2015 Susan V. Lacerra, Inspired Strategies, LLC. All Rights Reserved.
Footnotes and Links:
Article on Jeff Bezos: http://www.businessinsider.com/amazon-jeff-bezos-facts-story-history-2014-5?op=1#
Article on Jack Dorsey: http://www.fastcompany.com/1745108/twitter-co-founder-jack-dorsey-and-ideas-sparked-revolution
Heidi and Tara of In Her Image Photography, based in Petaluma, California. Many of their clients fly out to have their portraits done, so whether you live in California or just want to have amazing photos done, I loved them and look forward to seeing the results up on the blog soon.  Links at: In Her Image Photography or on Facebook.
Save