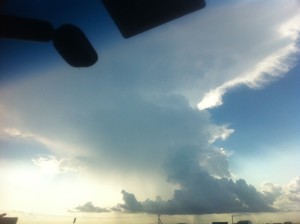 While I was working as a corporate executive, my other passion, besides analyzing businesses, that I loved and spent my free time on but that I didn't really talk about a lot was my spirituality and my connection with God.
Put it in words that you recognize as true for yourself – Source, the Creator, the Universe, Soul, Goddess… it wasn't about religion for me but about SPIRIT, if you will, the Holy Spirit moving through me and expressing into the world.
My friend, Jaron Banks, says "I AM God's Dream".(1) Jaron's website here
The DREAM of PURE SOUL connection in my heart, the feeling of LOVE when you look at BEAUTY that MOVES YOU , my childhood connection with the stories of JESUS and of his work and parables. These were my "rock", what I rested upon during stormy seas.
Finding the Inspiration to Keep Going
When I'd travel during my investment banking career it was always at a hectic pace, visiting sometimes three cities in a day (even four…), back then we could do that on commercial flights because we'd run late for planes and jump on just as they were closing the door…. You cannot do that anymore, and it was an insane pace, anyway.
I always LOOKED FOR INSPIRATION when I had those few moments alone in my hotel room, when my body was worn out, before crashing to sleep. And, always, there was that Gideon bible in the drawer of the hotel room, and I'd take it out and look for the inspiration just to KEEP GOING.
One night, I read all the Psalms looking for that line that would get me through the trials and tribulations of the trip, that would sustain me no matter what happened, however hectic the pace, whatever the demands on me.
Here's the line that caught my eye, and that I loved the best:
"The Lord is my Shepherd, I shall not Want." (2)
This is the first line of Psalm 23. The rest of the verse reads,
"He makes me lay down, in green pastures.
He leads me beside the still waters.
He RESTORES MY SOUL.
He leads me down paths of RIGHTEOUSNESS,
for his Name's sake."
At that time, I was working and traveling at a such a pace that I was so tired, all the time, so engaged in the doing, so completely scheduled, and so pressured to perform that I could not REACH FOR INSPIRATION FROM WITHIN; there just wasn't the bandwith for it to come through.
Receiving inspiration requires not only being open to it, we require to BE ABLE TO RECEIVE as well, and the hectic scheduled pace that is normal for so many of us MAKES RECEIVING INSPIRATION from within a challenge.
And so, these are the lines that moved me; that I repeated to myself, this was my inspiration, year after year, to KEEP GOING and to feel that I WAS ON THE RIGHT PATH.
FINDING INSPIRATION FROM WITHIN
SOMETIME AFTER finding the psalm, I took a cab ride from New Jersey to New York City that was intense and scary, where I didn't know if I was going to make it to the hotel safely. I had landed at Newark and was headed to NYC for meetings. At some point, I realized that either the cab driver didn't know where he was going, or something else was in the works and it wasn't going to be driving directly to the hotel. This was before I carried a cell phone everywhere.
He had missed a turn, and then started to drive aimlessly around Newark, and then around northern New Jersey in general, and an hour turned into two. There were points where I was yelling at him, questioning him, to no avail. It was shocking, because the driver seemed confused and highly agitated. There was no way to alert anyone else or call for help. And I could see that this guy could crack, that the pressures on him, whatever their source, were so great that he was almost at his breaking point.
At the service station where the cabbie stopped to refill the car's gas, I got out of the cab and asked for help from the attendant. I said, "this guy is driving me around, and I don't know where he's going, and I'm trapped in the cab, can you help me? Can I use your phone?"
But the attendant refused to help me. He actually stared straight into my eyes, slowly moving his head, "No", and I had the feeling that getting out of the cab in that strange neighborhood in the evening was even less attractive than my current situation… so I got back in. It was shocking that a person would say no to helping me, this was completely unexpected. And so I prayed that we would get to the hotel.
As I sat in the back of the cab, I was about as scared as I had ever been, and I started to hear a song float through my awareness.
It was Psalm 23.
And it was sung by Angels.
There are times in your life; there are MOMENTS, when you know, all at once, with complete certainty, that your entire life could change, circumstances are such that you just don't know what is going to happen… next.
When your mind perceives that you are in danger, time slows down, minute details are noticed, and your ability to act or think goes outside the parameters of what is normal. It's almost as if your FEAR, in these moments, clears the crowded playing field of the analytical mind, and grants FULL ACCESS to your INSTINCT, to your INTUITION, to that "little voice" INDSIDE, to that "GUT FEELING" of what to do.
I've come to see that these are the MOMENTS, where GOD CAN FINELY TALK TO US, when he, or she, the Creator, or the Universe, MY SOUL, can CLEARLY GET THROUGH; there's no static, no interference from the mind, NO EGO, no analytical references or considerations, ONLY HOPE for the desired OUTCOME.
Highly stressful situations can lead to moments of pure clarity about the right way to proceed in our lives if we ALLOW OUR INTUITION to be our GUIDING LIGHT in these MOMENTS.
And so…. In that MOMENT in the cab, I heard ANGELS, SINGING.
They sang like this:
"for Thou are with me,
Thy sword and staff they comfort me"
Of course, they sang it in Angel lingo, with the "thou's and thy's". The song was soft, and sweet, comforting, and beautiful. And it repeated over, and over.
I knew this was the verse after these words:
"Even though I walk through the valley of the shadow of death, I will fear no evil, for You are with me." (bible quote link)
Being in the Cab at that Moment was my version of THE VALLEY.
Using INSPIRATION TO STAY THE COURSE under STRESS
I hung onto that verse like it was my lifeline, like it was my raft in a stormy sea, like if I could just hear it more and more clearly, I would be ALRIGHT, I would get to my HOTEL, and this horrible nightmare would go back to being just a business trip, just a cab ride, just another trip to New York City, just another day.
I WILLED myself to hear the words, clearly, and I put the complete FOCUS OF MY WILL on the thought that WE WOULD GET "HOME", and I would get to safety, unhindered.
I stayed alert for another opportunity to exit and I stayed calm, with the hope that he would calm, and either he would find his way or I would get to safety myself.
And we crossed into Manhattan, finally, and pulled up to the hotel valet. It had been 3 hours of driving around with a crazed man at the wheel, in what seemed like the wilds of New Jersey.
Pulling up to the hotel was almost like a dream, I couldn't believe it was really happening, I was going to BE OKAY, and this really was going to be a normal day with no major life changes, things were ALRIGHT.
I was "HOME", and I was, finally, safe, and secure.
So I went upstairs and I read Psalm 23.
~SusanInspired
© 2015 Susan V. Lacerra, Inspired Strategies, LLC. All Rights Reserved.
In those moments when the going was the most intense for you that it's ever been, what was the inspiration that kept YOU going?
What inspiration, or dream, fuels you every day?
How do you receive your inspiration, or information, about how to proceed in your business, or your life?
What practices do you have that support your access to inspiration?
Please let us know in the comments.
Footnotes and Links:
Jaron Bank's website: http://www.dreampoweracademy.com/blog
From the Bible, Psalm 23: https://www.biblegateway.com/passage/?search=Psalm%2023&version=KJ21
Save