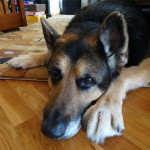 I had a dog. And he was awesome, magnificent.
And he was my best friend.
My dog was a German Shepherd, and he represented the best of me, of training him, being taught by him, having a relationship with him, of taking care of him, of him looking after me, together.
He amazed my friends.
He was an Ambassador for dogs, and for German Shepherds.
His gift seemed to be to convert people who had had bad experiences with his "kind of dog" into people who liked a German Shepherd…. Him.
He loved to lick children's faces, to roll over and let them slowly approach, so that they could learn that big dogs could be kind. Continue reading I HAD A DOG, Setting Your Course, Recovering from a Fall, and What Unconditional LOVE is About